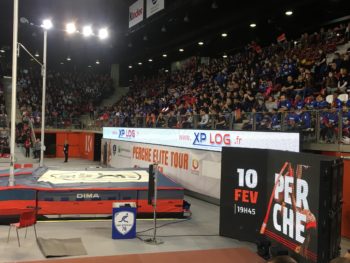 02.12.2018
An unmissable athletic event: the Perche Elite Tour
For the third consecutive year, Challenge International and XP LOG wanted to thank their customers for their collaborations. To do this, they were invited to the 2018 edition of the Perche Elite Tour.
This event was held at the Kindarena in Rouen on Saturday February 10th, 2018.
Ranked second best World Pole Vault Meeting in 2017, the Perche Elite Tour de Rouen is an unmissable sporting event for athletics.
Offering a real American show, the meeting welcomed more than 4,000 spectators this year.
In addition, throughout this competition, the pole vaulters tried to beat their personal best. At the same time, they prepared for their next major international competitions.
Then, at the end of this competition, the Olympic decathlon vice-champion Kevin MAYER came to greet the clients invited by Challenge International and XP LOG.