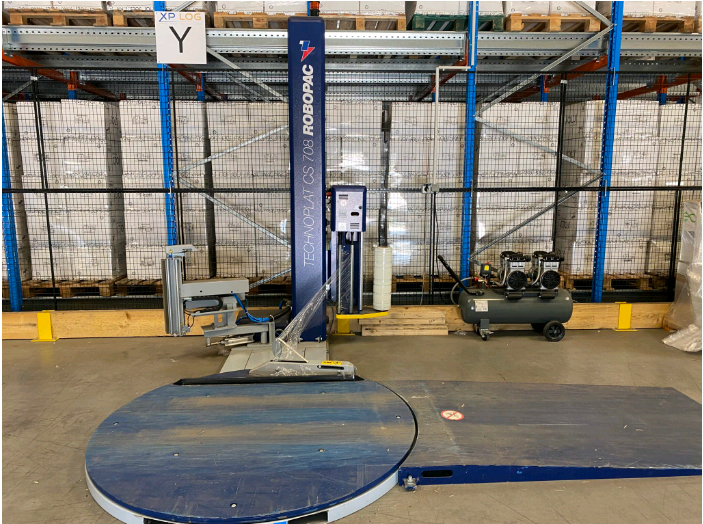 03.27.2023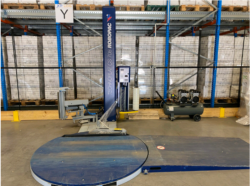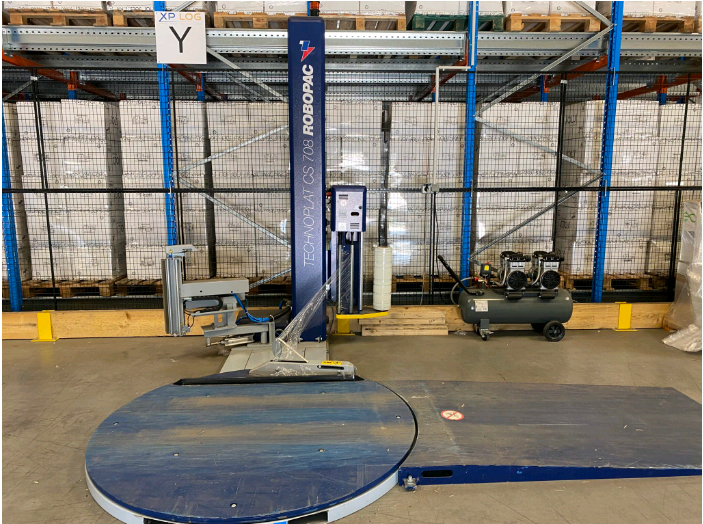 New wraping machine at XP LOG
For a year now, the overflow premises of one of our customers have been equipped with two brand new Technoplat 708 wrappers from Robopac. Innovative and easy to use, this wrapping machine facilitates the work of forklift operators and speeds up the storage procedure at the logistician.
An innovative approach
Robopac's Technoplat 708 wrapper is a tool for wrapping pallets and stabilizing loads with stretch film.
This new type of wrapping machine offers a fully automated offer, the operator only has to place the pallet on the turntable and launch the beginning using a remote control.
No longer requiring any handling, the automaton is equipped with a clamp unit which is used to hold the film at start-up to begin the filming process. After several turns ensuring the complete maintenance of the goods, the machine will use a new innovative element: an induction cutting wire to break the film. By maintaining this heat effect that melts the plastic, the film will be folded against the pallet and will automatically stick to it.
Its main characteristics are:
Simplified programming by touch screen
Variable pre-stretch from 150 to 400%
Scanning and cutting the film into two sequences
Advanced security features
Ergonomic because it does not take up space.
This wrapper is a time saver
From now on, the driver just has to drop and pick up the pallet from the base while controlling the filming with the use of a remote control. Beyond the fact that it reduces the filming time by 30 seconds (which on 120 pallets represents a time saving of one hour), it especially reduces the risks associated with the handling of the machines. This system is a real comfort for the forklift driver who no longer has to get on and off his truck a hundred times a day.
During packaging carried out with a normal wrapping machine, the driver must get off his handling trolley, manually hang the film at the foot of the pallet, start the activation of the automaton, wait, stop it and finally hang the film . This maneuver takes an average of 2 minutes and 30 seconds for a 2-meter pallet at our client's.