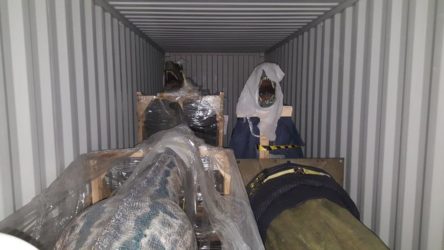 03.16.2018
Participation in the Jurassic World dinosaur exhibition
The famous Jurassic World saga will be back on the big screen on June the 6th.
In the meantime, fans will be able to immerse themselves in the world of dinosaurs thanks to the Jurassic World exhibition which will take place in Paris from April 14th.
The launch of this exhibition took place in Melbourne, Australia in May 2016. Then moved to Philadelphia in the United States before arriving recently in France, in Paris.
Challenge International and XP LOG contributed to the smooth running of this exhibition.
Indeed, Challenge International import's teams took care of organizing the maritime transport of around twenty containers, between Philadelphia and Le Havre in February 2018.
During the first half of March, the dinosaurs slept snugly in the XP LOG warehouses. They will leave next week in Paris.